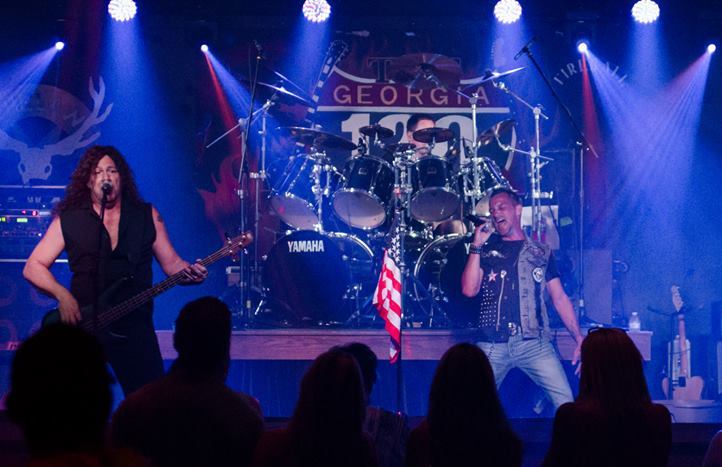 ALL OR NOTHIN'  –  MEET THE BAND MEMBERS  
Atlanta, GA & Knoxville, TN USA – Original Heavy Rock/Metal Band
TRAVIS KING – LEAD VOCALIST
JOHN VO – LEAD GUITAR
JOE CAVALIERE – BASS, VOCALS
TBA – GUITAR
TBA – DRUMMER
All or Nothin' consists of veteran rockers with diverse musical tastes and influences who write music from the heart and that makes their hearts pump faster with one exception, no preconceived notions or limitations.
Lead singer Travis King hails from Knoxville, TN, Lead Guitarist John VO and Bassist Joe Cavaliere from New York City along with a new Drummer and 2nd Guitarist being brought on board to breathe new life into AON. The highly anticipated follow-up to AONs debut CD is going to be packed with killer tunes.
All or Nothin' continues to be more than a just a heart and fist pounding Hard Rock/Metal band, they are a hard driving, hi-energy rock machine with unparalleled exuberance who put on a killer live performance from the opening note of the intro until the lights go down leaving you exhausted from the onslaught. With a follow-up release of new music scheduled for release in 2018, All or Nothin's crushing new songs will not only make you raise your fists in the air, expect your heart to start racing as the rush of adrenaline takes control.
All or Nothin' will continue their journey with producer/drummer extraordinaire Yanic Bercier (of the famed Quo Vadis and currently Gone in April) at WaveTransform Studio in Knoxville, TN enabling All or Nothin' to capture their live energy and sound as it was meant to be heard.
All or Nothin' continues to be thankful for the tremendous support from traditional and Internet radio stations across North and South America, Europe, Asia, Australia and New Zealand. All or Nothin' offered No Excuses, No Regrets and No Apologies because everyone needs a good ass kickin'…